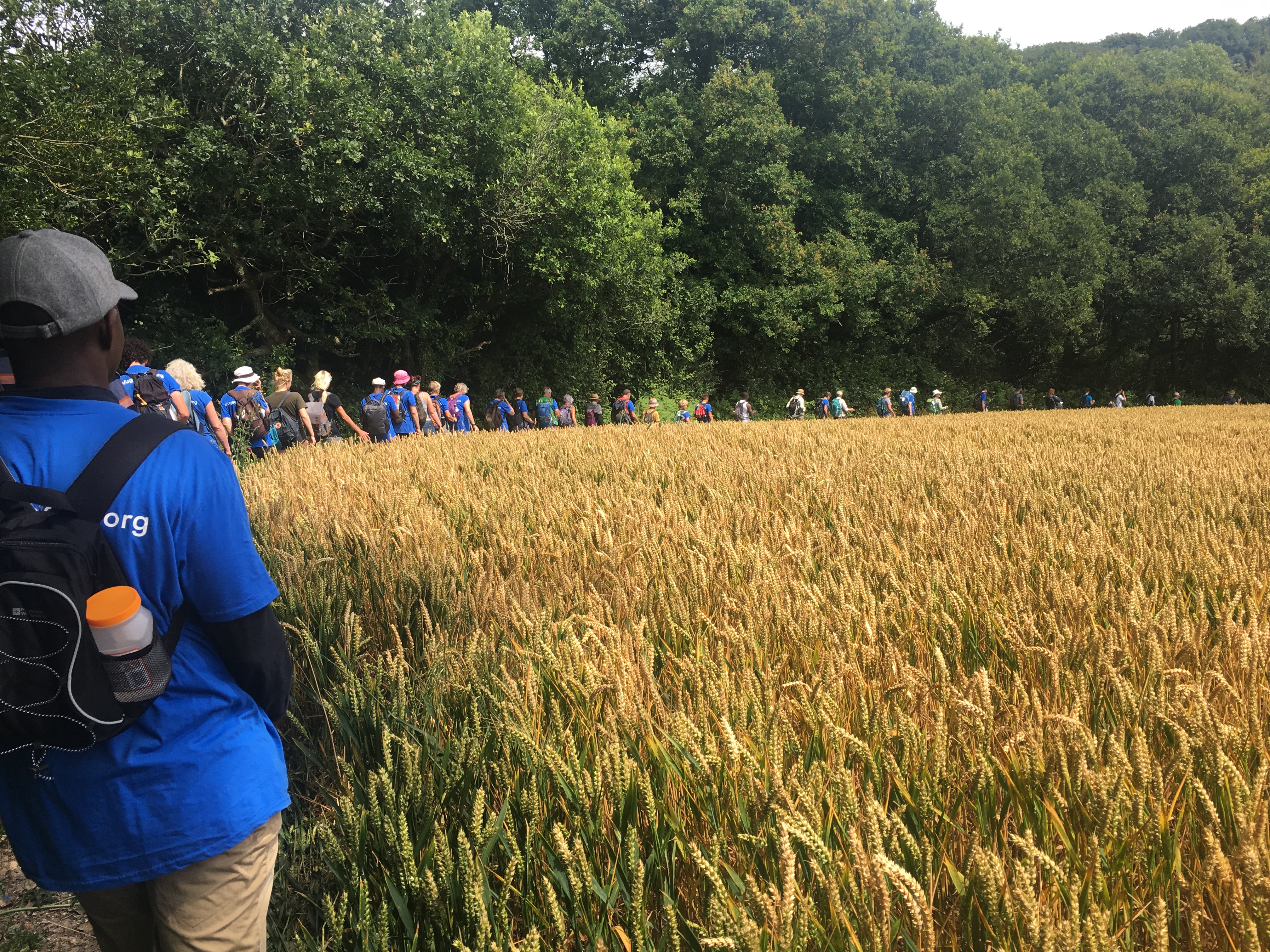 I don't remember facts easily these days. But, from the five-day 110km walk I did last week with Refugee Tales http://refugeetales.org/ , I've clocked one or two slotted in between steps taken, hours unslept, ramblings – conversational, over hill, over dale – stories and dancing.
It was the evening of Day 4 the US-based British poet Lytton Smith, introducing 'The Pruner's Tale', informed us that, in 2004, a law had been passed in the States, post-9/11, enabling police within 100 miles of the border to stop anyone or anyone's car and search it without needing a reason. Equally, within that 100 mile range, to enter and search anyone's home without a warrant. Smith noted that 65.7 per cent of US residents live within 100 miles of a border.
It chimed with warnings from a lunchtime speaker we'd heard in Kingston village hall on Day 1, that the political shift in closing borders, and punitively categorising those seeking help (summarised as Theresa May's perpetual 'hostile environment') is part of a shift in politics and language spoken within our countries' interiority as well as at its borders: severely restricting social and economic mobility and punitively categorising those needing help.
Lytton Smith spoke to us in Bexhill's De La Warr Pavilion, a place resonant to our purpose. Walking mostly through the countryside, perhaps we were more conscious of the natural landscape than the cultural sites we encountered. The De La Warr Pavilion was commissioned in the 1930s by the socialist mayor of Bexhill-on-Sea (unimaginable for anyone familiar with Private Eye in the 1960s and 70s when the town was uniquely pilloried as the epitome of stuffy old Alec Douglas-Home-style Torydom). The mayor, De La Warr, had been the first hereditary Peer to join the Labour Party and was a member of Ramsay MacDonald's first Labour government in 1924. (He wasn't the only one – from memory Lord Trevelyan was also in the government.) More significantly, perhaps, the International Modernist brief De La Warr insisted on for an open architectural competition was awarded to Erich Mendelsohn, a refugee from Hitler's Germany, and Serge Chermayeff who had come to Britain from Russia as a child. The history is complex, utopian and fascinating: for more, see https://www.dlwp.com/about-us/our-story/  I first became aware of the Pavilion and its history in the mid-1990s when volunteers were working to revive the building that had lost sense of its history and culture, losing use and falling into disrepair. Reviving it was a real struggle and never straightforward, and it is therefore especially pleasurable to appreciate it in all its functions now, especially as, in the early 2000s, Rother Council had been about to sell this stunning piece of architecture to Weatherspoons. Tenacious activism resisted, and so last week there we were.
A poet and one of the instigators of Refugee Tales, David Herd says with repeated eloquence: we need to change the language around migration. I've walked on four of the five annual Refugee Tales walks so far. This was the second full walk I've managed, and it was the first time I felt strongly the reality of how, in our rambling conversations, we are indeed changing that language. Telling and listening to each other's stories woven with jokes, observations, flights of fancy, in different forms day and evening, in pairs walking side by side, in social gatherings around a microphone, in silent rumination at night between the sleep of people in church halls revisiting what we've heard that day. We are also, David states, re-making the landscape by walking it.
Perhaps one reason this year I could really feel this, in addition to changing the language, was because we were walking the very beautiful landscape between Brighton and Hastings (mostly the South Downs Way) that has been a part of my life in the many decades since I was a child. It's a landscape I've found, lost, found, lost, the scene of trauma, brutality and desolation as well as repair, solace, shared pleasure, joy and even epiphany.
The UK is the only European country to impose indefinite detention on those seeking refuge; in contrast to refugees – or, technically, asylum seekers – terror suspects can only be detained a maximum of 28 days. Asylum seekers are placed outside of the law and outside of human rights. Each day 150 walkers are of one accord with Gatwick Detainees Welfare Group in calling for an end to indefinite detention. Day by day people came and went, walking slower or fast, the shape of this straggle of people constantly gathering anew, like the sea's ripples frequently in our sights. It felt very good indeed to be walking each day with 149 other people most of whom I wouldn't get to meet through my usual work/social networks.
Each year's walk takes a theme: last year it was human rights, when I remember the law academic Marie-Benedicte Dembour arguing for an additional human right, the right to treat people properly. How great if Prospect and other civil service unions were to demand this for their members including, as a matter of urgency, Home Office staff!
This year's theme was Borders. We have breakfast, day walkers arrive, we walk, we break for lunch, we walk again, usually more than 10, never more than 15 miles in a day, arriving at a church hall by about 4.30 for a cup of tea, then supper, followed at 7.00 by an evening – open to the public – of stories, music (and unprogrammed dance). Some of us go to the pub afterwards, some make an advance attempt at sleep on the hall floors. The walkers are a mix of atheists, Buddhists, Christians, Muslims, Hindus and some minority religions such as Yazidi: the reason we stay in the church halls is because they're there, hospitable and have the right insurance for people staying overnight. Conventional washing is a luxury postponed: one night there were only two women's toilets in the hall, one basin, and typically rather more than half of the 120 overnight sleepers are women.
At lunch time we usually have a talk and the best are from specialist academics who speak to the walk's theme. My memory for facts is, as I say, ropey, but I remember well Day 3's talk at East Dean, when the speaker compared the language she'd found relating to 'Borders' in online UK British newspapers for the month of June 2019 with the language relating to the plant, Canterbury Bells, or companula ­– a mainstay of borders – in online horticultural magazines for the same period. The results – language – were simple, profound, and terrifying. I also remember that Day 4's lunchtime talk in Pevensey Bay was brilliant and I hope to read the article by the bloke whose name I've forgotten, to refresh my memory of what he said: so much close listening all day, every day, and a very frustrating memory.
The musicians who play for us between and after the evening's stories – different soloists or bands each evening – they love us. We love them, we'll dance to anything, we need dance desperately by then, each of us in our unique and peculiar dance habits, from different parts of the world and from different generational dance crazes, shaking it down together in whatever place we find ourselves. How weird to be grooving to the wild band Don Kipper in a Baptist church! After a euphoric encore the drummer gets up out of his seat, walks across the stage, takes the mic and tells us they've played all over Europe this year and this has been their best night by far, we are the best audience. I don't think any of us took it personally, and it felt great to feel the love back at us.
I am sorry, though, to remember Day 2's event at Charleston in the afternoon. As well as the academics who talk in our breaks, we sometimes have volunteers or staff for the organisations hosting us. At Charleston a volunteer spoke with the banal gossip often generated in relation to the Bloomsbury Group, mostly focussing on Virginia Woolf. It's stayed with me. Without naming a single book by Woolf, she told us the class she came from, the man she married, and the fact that she had killed herself. No discussion, though, of gender and sexuality – relevant to Charleston's former residents as well as to many of us, and the cause of some leaving their home countries. Most of us walking are very aware of the considerable impact indefinite detention has on people's mental health. We know that there's a high incidence of suicide. (As we'd been walking, I'd heard of a child refugee schooled in London, who'd taken her own life when she'd been detained for planned deportation once she'd reached the age of 18.) We know that the fact of suicide is a reality for people seeking asylum and those working with them. People 'left behind' have to work hard to prevent a violent death obscuring the life of the person we've loved. We don't need to trade gossip about the fact of a suicidal death in place of acknowledging the brilliance of a person's life, or their wit, or generosity, or beauty, or soft hair, or friendly smile, or, in Woolf's case, her extraordinary body of literature and significance in feminist discourse.
We need to change the language.
This sense – recognising the value as well as the rights of every individual  – informs the challenge to the new forms of slavery, torture by bureaucracy and incarceration that are at the centre of C21 border politics. The connections with mental anguish, never mind mental illness, can't be overlooked.
Within the discourse of Refugee Tales we start to understand some of the intangible things we half-know/feel about what freedom is. The sometimes indescribable. How dare we assume? Listening to T, some of us realised the unacknowledged freedom we enjoy by not having to look over our shoulder all the time. That even in the periods of his life when he looked as if he was free, T has never not needed to look over his shoulder. I've found that those of us who have had freedom taken away are usually less embarrassed at daring to define our freedoms, to find tangible things to say. For instance, the right to work. The ex-detainees walking with us, who usually have to sign at police stations weekly, who are in limbo until the Home Office and the judiciary reach a long-awaited decision on whether or not to award the right to remain, have no right to work. Listening in Alfriston village hall at the end of Day 2 to R telling his story, how he was brought up to farm in Sudan, always learning from and helping his father, and having known him on previous walks always busy, lifting baggage into the van, clearing tables, helping, helping, helping, I now realise what torture it is for him, not being allowed to do anything. Waiting, waiting, waiting. This young man, full of life, courage and vigour, a human manifestation of energy, so fit and bright that he's survived torture, enslavement, drowning, being thrown back from Britain to Italy, returning, refusing to be a token in the British government's colonially imported game of Snakes & Ladders; ultimately stitching himself to a lorry's undercarriage. Not being allowed to work, along with being 'detained' and addressed by Kafka-esque language, is part of the torture R has endured within Britain's 'hostile environment'.
Usually it is professional writers who work with and create a form for ex-detainees' stories, and these are read, often by the writers, each evening. This year the impact of years of support and friendship has paid off, so the just-published third volume of Refugee Tales contains a mix of verbatim stories, and those constructed more deliberately with writers. The book is all the more powerful for this – a great, diverse, mix – and, as you hear each day on the walks, many ex-detainees or 'guest walkers' talk from a culture of oral as well as textual story-telling. I could listen again and again to JB describing a love for football, how frustrating it is when new footballs, presents from parents, are split when they break windows, how parents stop buying them, how to make a football from a blown-up soft plastic milk carton wrapped in bicycle inner tubes, and solutions for the absence of the milk containers when you go to visit your grandparents in the country. The pangolin, a conveniently-sized creature that rolls itself up, that many of us have barely heard of, is genuinely at risk because they're killed for meat – the one that JB mistook for a  football outside his grandmother's was a one-off. And anyway it scarpered.
Two years ago, when O bows his introduction to the group, as if arriving at court bearing gifts, he dazzles with his wit and love of life. A few days later he describes his journey here, and the innumerable setbacks attempting to leave Calais. As performative as his bow, he describes a Superman leap on to the moving Eurostar, shouting back with perfect retaliatory humour at the gesticulating police, 'Allez! Allez! Allez!' as they'd shouted when dumping him, with humourless cruelty, in the middle of French nowhere many times before. Later that hot July storied afternoon two years ago he and I turn a corner at a dusty London suburban trunk road. Suddenly O and a man at a bus stop are embracing. They briefly talk but the bus is arriving and the well-dressed man climbs into the bus and is gone. O tells me they'd been in Calais together.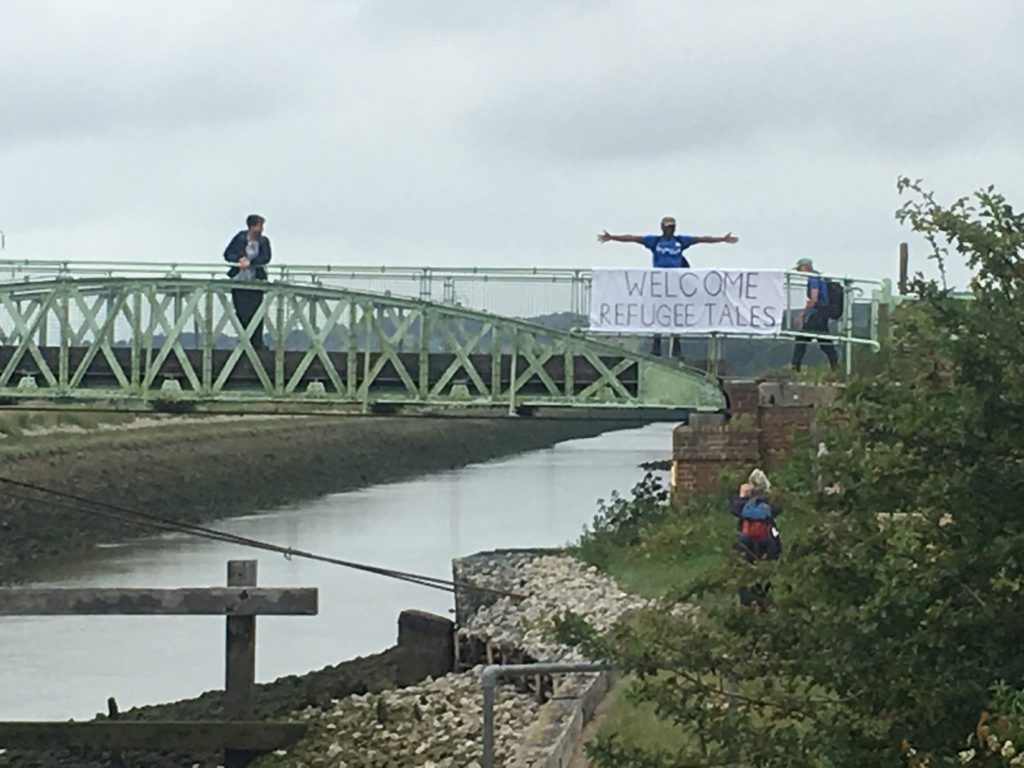 Last week when T tells me about the endless trials he endures with fears for his British children who are desperate to be with him, my compassion is absolute. Like R2, he is a Londoner, British except for the newly, absurdly, required paperwork that only an archivist hoarder living forever at a single address would ever have. T's accent is southern English, R2's is south London. He only ever remembers living in south London. Someone told me that, when his mum planned to take her kids abroad on holiday, she didn't bother getting a passport for R2 because he wasn't well enough to travel at the time. So now his mum and his siblings are all British but the Home Office 'thinks' that R2 isn't. Well, this week Trump is telling US congresswomen to 'go back' to where they came from. Don't let Trump distract from what's happening here. And when establishments reify family values, let's not forget how families have since historic slavery been split or held together graded by colour, landed by gentry.
That night after I heard O saying, Allez! Allez! Allez!, and watching him greet his Calais friend, I was awake till 5.00 a.m. I stood up and looked out as London dawned, having realised O and the others demonstrated all the qualities my long-dead mum had told me summed up a hero. I don't remember the detail but I do remember her objections to the political cliché heroes (Churchill e.g.), and her offering alternatives like those who challenge social and political injustice, and those who endure extraordinary geophysical challenges. In that London dawn of late adulthood, I realised that the people I was meeting were twenty-first century versions of her 1950s definition of heroes: unique in their extraordinary courage, applied intelligence, with extraordinary life spirit, determination, desire to make life good, to be good in life and to treat others well, to maintain trust and hope and humour in the face of desperation and cruelty. Many of those who don't survive, those uncharted, lost at sea, enslaved, imprisoned because they've been trafficked, detained, sent mad or 'rejected' by the Home Office, also have these heroic qualities. It would be impossible to survive these obstacles – unlived words for most of us – without these heroic qualities.
When Ali Smith, Refugee Tales patron, speaks to us in Crowhurst at lunch time on Day 5 (the last few of the 110 km were always going to be the hardest), I am thrilled when she uses the word 'hero': it is clear to all of us and it was great to hear a wonderful writer, forgive the cliché, as such an inspirational speaker.  She talked of how much we, the safely British walkers and, I think, she also meant the safely British, are given by asylum seekers, how enriched we are by these ex-detainees, Refugee Tales' 'guest walkers',  most of whom are still in the disgraceful Home Office state of limbo. We applauded. All of us. We, in our apparent safety, we, in limbo, we all absolutely know this.
As well as different themes, each year the walk feels to have a different character. In last year's heatwave I vividly remember sitting in a grass clearing in Epping Forest, listening to Paul, a retired lawyer and walker, and Steve Collis, a poet who regularly travels from Canada to walk with us, discussing and reading from John Clare, and linking the resistance against Enclosures with the resistance against today's barbaric border controls.
This year I really felt the extremes of where we are, and I think that was a shared feeling: relief to engage with a group rejecting left-on-left fractures, clear about its relation to  internationalism, globalisation, decolonisation, borders and interiors. Relief because individually we can feel so desperate. Determination to keep going together. Enjoying the real diversity between us including our alliances, non-alliances and equivocations in relation to different world religions (sometimes the reason for having to leave home in the first place).
I saw previous years' alliances grow into friendships. Some of us swap contact details and hope to see each other again. But when it comes to R, O, and some of the others, the bonds they've developed through the long annual Refugee Tales walks, the day walks through the year, and the hospitality and support of GDWG volunteers and staff, seeing these bonds gives rise to hope and trust: We will change the language.
As I get on the train home I suddenly remember one time that I bought my £30 train tickets at the machine. Across the platform, as I was buying my tea for the journey, I realised I'd forgotten to pick the tickets up out of the machine and dashed back but they'd already gone. I went to explain to the uniformed woman, my sort of age, at the platform gate. Initially neutral, gradually she started to help. I was apologising for being so stupid. She said, Oh, it happens to us all. And went on to tell me how, when her son was nursery age, carrying her elderly mother's washing as she climbed on to the bus, she distractedly left her son at the bus stop. It was only as she was about to turn the key in her front door that she realised. Luckily he'd turned round and gone back to his granny's, and my woman caught the bus back to pick him up. She went out of her way to help me, got a letter printed and signed in place of the lost return tickets I'd bought. She had no access to the machine's computer. She took me at my word. I caught the train. And she made me very happy with the world. She must have had the freedom to feel that she had the human right to treat people properly, with trust. I've always hoped that it didn't only apply to people who look like me, like her.
Refugee Tales volume III https://commapress.co.uk/books/refugee-tales-volume-iii
Refugee Tales http://refugeetales.org/